She spent a nonresident junior year in Mexico City, studying stone carving with Luis Ortiz Monasterio. After graduating from Bennington, she studied modeling the figure and portrait with Jose de Creft at the Art Students League in New York City.
For 20 years, her major oeuvre has been an interpretation of Dante's Divine Comedy in paintings and sculptures as exhibited in NYC as well as at San Francisco's Grace Cathedral, Fort Mason, Vorpal Gallery, and the Shrine of Saint Francis.
She sculpted in terracotta and bronze and drew pastels on paper and wood. A lot of pieces of her long and illustrious life have been sold already but some is still with us. We are trying to find buyers/collectors.
"As an artist, I try to move out of the society that would protect me, into the dark forest, into the world of fire, of original experience."
"I believe that as an artist, I must be willing to face trials and bring a whole new body of possibilities into the field of interpreted experience for others to experience."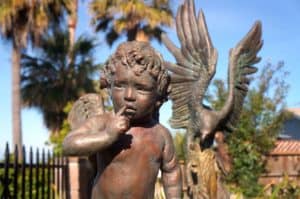 Please visit Harriet's art site at www.myhobbyjoy.com to peruse her art and contact me if you find a piece that may interest you.

Thanks for your patronage.

Harriet, my wife's mother, was the renown artist in the family.