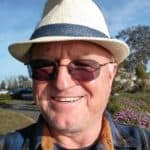 Hello, Tom Froehlich here.
Information technology is one of my passions as I coded my first website in html in Berkeley, California in 1998. Those days are long gone.
My career spans decades as a fundraising operations professional working for a lot of different nonprofit organizations and a university, at times in the capacity of a consultant and at other times as a regular, employed, mid-level administrator.
Please see my profile on LinkedIn at https://www.linkedin.com/in/tom4u for more details.
Since 2014, I have turned a bit from managing the ins and outs of complex nonprofit fundraising data to designing and developing responsive, mobile-first websites in the form of online social networks or membership sites with logins, user profiles, member directory, activity walls, and private messaging, etc., for small to medium organizations. As such, I am doing business as (dba) HobbyJoy Media.
I am a frontend developer, and prefer to work on the WordPress platform. All themes and all plugins are fair game. If a client needs a small customization to be coded in php, I just hire a temp programmer for the job. I host most of my work at DreamHost and cdn at Cloudflare. So, it's about quality, flexibility, and affordability as WordPress and DreamHost deliver. Nothing too fancy.
If you are a small business owner or nonprofit manager and need a new or better web presence, please consider my services to craft and maintain these assets of yours.